"Everything's A Full Go From Here"
May 19th, 2011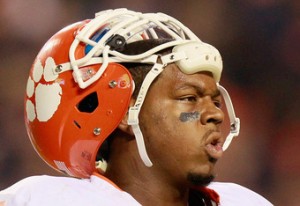 Bucs second-round pick Da'Quan Bowers is running. He's cutting. He's making football moves.
Bowers shared this great news after emerging from his Clemson cocoon to sit down with Steve Wyche of NFL.com. You can watch the video here. At least part of the interview, perhaps more, also will air on the man channel, NFL Network, tonight during Total Access, which begins at 7 p.m.
Wyche penned a story from his chat with Bowers, as well. It seems Bowers wasn't up to speed on the details of his January knee surgery for weeks.
» He didn't know that his knee injury was problematic until he realized he couldn't participate at the combine. A red flag went off in his mind, as it did with several teams.

» Bowers didn't know the extent of his knee procedure until repeatedly hearing some of the reports about the surgery. He thought he was simply having a minor scope and even though doctors told him they had to do additional work — there was a minor micro-fracture procedure — Bowers didn't know how serious it was.

» McCoy has called several defensive players to have their own workouts and Bowers would consider it. However, based on his rehab and the fact he's not under contract, it's unlikely he would participate in any physical activity.
Joe's glad to see Bowers running — and talking. Perhaps he'll get intimate with the local media soon, too. Though WDAE-AM 620 host Ian Beckles said he doesn't expect Bowers to say much until he's under contract. "If he says the wrong thing about [his knee], it's going to cost him." Beckles said.
Joe still doesn't understand the scope of Bowers' injury. And there's no reason for the Bucs to reveal it.
All Joe cares about is whether the guy is lined up on opening day and healthy enough to get through a season. If he can, and he can produce more than sackless Kyle Moore, then the Bucs will be smiling broadly about their risky draft pick.