Defending The Commish's Love Of Clayborn Pick
May 30th, 2011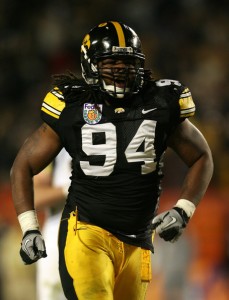 Joe admits he was a little taken back yesterday when some commenters here blasted NFL Draft guru Justin "The Commish" Pawlowski of WDAE-AM 620 for expressing excitement over the pick of Adrian Clayborn.
The Commish's love for the Clayborn pick shined through in a recent episode of JoeBucsFan TV. You can watch it here.
Some commented that The Commish's draft-guru credibility took a hit because he had expressed negativity about Clayborn before the draft but was now smitten. Joe's going to say that's completey unfair. Pawlowski served up positives and negatives on Clayborn and all defensive ends two days before the draft (see below).
8. Adrian Clayborn – Iowa
6'3'' – 281 lbs – 4.83
1st/2nd Round

Why The Commish would take him: I think you take Clayborn because of how well-rounded he is and how good he is in multiple areas. Clayborn has been a 3-year starter for Iowa, a captain, had a great work ethic, been productive, and has shown fantastic instincts. He has excellent technique against the run and in getting to the quarterback. Clayborn can be very good with the bull rush, but also shows many different moves to get to the quarterback.

Why The Commish would stay away: There are a few concerns with Clayborn.  First, it's been reported that he has one arm shorter than the other arm which has forced him to only play RDE in his collegiate career. It's also been reported that he has Erb's Palsy that some teams are concerned about. In 2010, Clayborn saw his production really fall off after a great 2009 season.  I've heard people say that opposing offenses were keying on him, but you could say the same for Ryan Kerrigan and JJ Watt, and they were both very productive.  There are also some character concerns as Adrian Clayborn was arrested for assaulting a taxicab driver.

Commish's Final Say: There are obviously many positives and negatives with Clayborn. I do think the Bucs have a good amount interest in him and he could end up being the pick. I do think there is risk, but Clayborn does have the talent to end up being very good in the NFL.

Comparison: Charles Grant – New Orleans Saints
The Commish also had Clayborn going 25th overall in his final mock draft, which was released the morning of the draft. 
25. Seattle Seahawks – Adrian Clayborn – DE – Iowa
6'3'' – 281 lbs – 4.81
Needs: QB, OG, DE, DT, CB
Commish's Take:  At first I thought the Seahawks might go with a quarterback, but now I'm  starting to think they'll try and trade down or grab a defensive player.  Clayborn has his issues  and red flags, but is still a good player.
All Joe's saying here is that ripping Pawlowski for doing an about-face on Clayborn isn't accurate or fair. Joe's not about to let the guy take it on the chin for no good reason.