Cheerleader Competition Heating Up
May 13th, 2011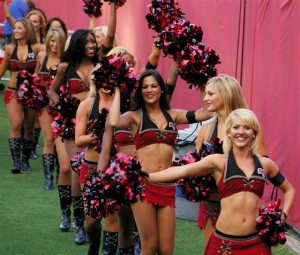 Joe always feels a little sad this time of year, when competition to become a Bucs cheerleader is in full swing.
Joe can't bear to think of all those beautiful women who will be rejected. Joe wishes he could console each and every one of them.
The good folks at Buccaneers.com, presumably with very little to do during the lockout, have put together a stunning video update of the 2011 cheerleading tryouts. Joe was riveted. You should watch it.
Speaking of cheerleaders, Joe remains puzzled by the Bucs imposing term limits on their cheerleaders, forcing some of the classy young veterans into early retirement. There's something extraordinarily wrong about telling a cheerleader she's not allowed to compete.
That kind of injustice could be enough motivation for Joe to establish his own cheerleading squad.