Who Is The Best Offensive Player In Bucs History?
April 18th, 2011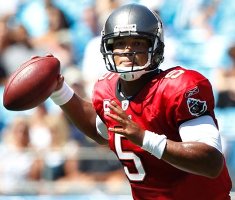 Last night, Joe was humbled to be a guest on the weekly RaysRev.com podcast hosted by the WTSP duo of Mike Weber and Matt Sinn, who for Rays fans are must-follows. During the podcast, Joe was hit with a probing question that took Joe aback a little.
Sinn asked Joe, after we discussed the Rays, if Josh Freeman is the best offensive player in Bucs history.
Joe's initial, impulsive reaction was, of course not. Then quickly Joe scanned through his beer-soaked brain of offensive stars of the past, and couldn't think of many at all.
Lots of old Bucs fans would say Doug Williams but his stats weren't all that good. Kevin House was a dangerous receiver but not dominant.
Joe likely thinks one could make a good argument that Warrick Dunn was the best Bucs offensive player. James Wilder certainly made an impact. Perhaps Meshaun Johnson but Meshaun was around really for three years before his days with the Bucs flamed out.
Weber has a good point. If Freeman stays healthy, he very well could be the best Bucs player in franchise history. It's an interesting argument.