Time For Kyle Moore To Prove Himself
April 17th, 2011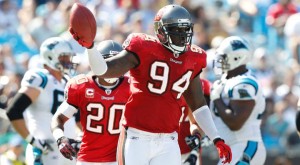 When the Bucs drafted defensive end Kyle Moore two years ago, a lot was expected of him. Instead he was largely injured and had little impact on the defense.
In writing about each team's needs in the draft, Gregg Rosenthal of ProFootballTalk.com explains just how badly the Bucs need to beef up their defensive ends, and how important it is for Kyle Moore to make some sort of impact.
G.M. Mark Dominik drafted a pair of inside guys last year. He could stand to draft a pair of pass rushers on the outside this time. Stylez White should be making Teen Wolf 3 in another city. Tim Crowder is also a free agent, which means Kyle Moore is probably their best returning guy. Yikes.
A few weeks ago Joe touched base with a trusted Bucs beat writer to ask about Moore's job security with the Bucs. Joe was told in no uncertain terms the team is disappointed and that with new defensive line coaches, the time has come for Moore to come out of hiding or he may be looking for employment elsewhere, maybe a bit part in Teen Wolf 3?