The Draft, Smokescreens And Pokerfaces
April 23rd, 2011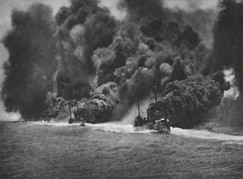 We're just days from the NFL Draft, which, as Joe's good friend Justin Pawlowski of WDAE-AM 620, "The Commish," likes to call it, Christmas in April, and the s(p)it being tossed by teams is amazing.
One such person from Ocala is even smelling the stuff coming out of One Buc Palace, so he asked BSPN's Pat Yasinskas in a recent NFC South chat.
Adam (Ocala,Fl)
Hey Pat, what do you make of MD saying that DE may not be the Bucs biggest need? Somkescreen?

Pat Yasinskas
He didn't say it wasn't their biggest need. He said he wouldn't disagree with that opinion, but that doesn't mean they're going to draft a DE in the first round. Would you expect him to say anything else?
Just about everyone will be floored if, when the Bucs pick at No. 20 Thursday night, NFL warden commissioner Roger Goodell doesn't call out the name of a defensive end. But for whatever reason, an interview The Commish did with Bucs rock star Mark Dominik after the second round last year rings in Joe's head. One of the reasons the Bucs selected Brian Price was that Dominik thought Price had the ability to perhaps play defensive end.
So if Dominik stuns the NFL world by passing on a defensive end in the first round, remember that little tidbit.
As Joe has stated previously, one would have an easier time breathing through the haze of Jerramy Stevens' vehicle on a Saturday night prior to a home game than the spin putting out by NFL teams in the scant few days prior to the draft.