Raheem Morris Not Among NFL "Power" Coaches
April 5th, 2011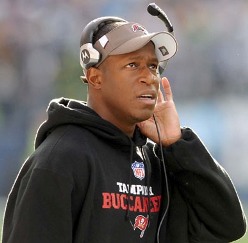 It seems the Bristol Bolsheviks of BSPN decided to rank the top coaches in the NFL.
With the lockout grinding non-draft news to a virtual halt, sans player scrapes with the law, guess the commies who do their best to dictate how right-thinking Americans are supposed to think, watch and like had to give their comrades something to do, all for the party of course.
For reasons unknown, BSPN only listed its top 12 coaches ranked by its writers/bloggers. Raheem Morris is not on the list.
Yet Mike Smith, a guy who has just as many playoff wins as Morris, is on the list. Strange. Also included is Mike Shanahan, who has done little since John Elway retired.
The list begins with Bill Belicheat and ends with Jim Caldwell.
Blogger Pat Yasinskas confessed he did not vote for Morris.