Arron Sears Receives Conditional Release
April 5th, 2011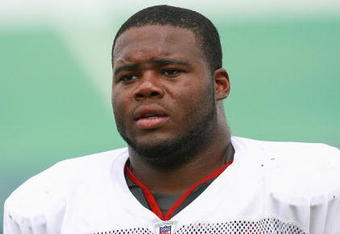 After spending 62 days in a Hillsborough County cage, troubled former Bucs offensive lineman Arron Sears is now a free man.
For the time being.
After living the last two months of his life in jail on a charge of battery on a cop, Sears was granted a conditional release today, so reports Anwar Richardson of the Tampa Tribune.
Former Tampa Bay Buccaneers offensive lineman Arron Sears was released from jail on Tuesday and will enter an 18-month mental health pretrial intervention program, the state attorney's office confirmed…

The law enforcement officer involved in the incident at TGH allowed Sears to enter an intervention program instead of pursuing criminal charges. If Sears successfully completes the program, all charges against him will be dismissed. If not, Sears' case will go back to the state attorney's office.
In short, if Sears doesn't cooperate in getting the mental healthcare he clearly needs, it's back in the cage he goes.
This is simply a sad story for Joe of a very gifted guy — who no fault of his own — that now faces at best an unforeseen future.