Morris Will Remain Your Bucs D-Coordinator
April 2nd, 2011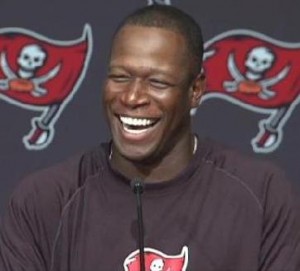 Ever since Raheem Morris jettisoned the heinous Jim Bates Experiment in mid-2009, a franchise record-setting horrid defense that coughed up an average of a wretched beyond words 29 points a game, the Bucs head coach has been the de facto defensive coordinator.
Don't expect that to change. Morris spend some quality time with eye-RAH! Kaufman of the Tampa Tribune and said he has too much fun as a defensive coordinator to give up the reigns.
"I enjoy it so much," Morris said of his dual role. "To game plan against great minds like (Saints head coach) Sean Payton and (Falcons offensive coordinator) Mike Mularkey – those things are exciting for me. To go up against some of the great quarterbacks in our league as defensive coordinator and be able to dictate a defensive mentality is fun.

"I want to be the very best and you want to match up against the best."
In Joe's eyes — though not yet to be confused with Monte Kiffin or even Dick LeBeau — Morris has done a solid job.
Consider what Morris had to work with last year: a non-existent pass rush, linebackers that either make someone throw their remote at the TV or bury their heads in their couch pillows, suspensions to his Pro Bowl-caliber defensive backs and injuries too numerous to count with holes filled often by green rookies.
Yet Morris not only always found enough duct tape and Elmer's glue to put together a decent defense, he did a fine job in Joe's eyes of making in-game adjustments.
Joe wonders what Morris could do with studs on the front seven.