Lies, Damned Lies, And Statistics
April 27th, 2011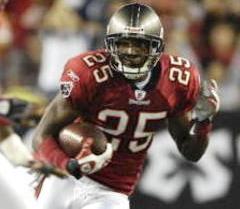 For some odd reason in the 21st Century, the concept of statistics in virtually every aspect of sports has exploded.
Numbers, to a degree, can be enlightening. But the numbers crowd has grown so large if not obnoxious, statistics have become suffocating. It has nearly chased Joe away from baseball.
Joe's waiting for the spreadsheeters to come out with a stat about the number of times a right-handed first baseman farts at the plate facing a lefty throwing in a day game.
Thankfully, the numbers crowd hasn't killed football (yet) and the stat guys, led by FootballOutsiders.com, often bring thoughtful discussion behind their gibberish.
But eye-RAH! Kaufman of the Tampa Tribune brings an example of when stats either lie, or conflict.
In the five games Talib didn't dress, the Bucs picked off only three passes. In 11 games with Talib shadowing the opposition's best receiver, Tampa Bay registered 16 interceptions.
Ah, but here's the key number: In the five games Aqib Talib didn't play, the Bucs were 4-1.
So which is it, does the secondary stink like a used septic tank without Talib, or does the team win without him?
Joe, like many reasoned Bucs fans, will clearly take the 4-1 mark.
Now Joe has read how many Bucs fans have dropped to their knees, wailing in tears at the thought of Talib being jettisoned by Bucs rock star general manager Mark Dominik for his string of violent if not criminal acts, as if said Bucs fans lost their million-dollar lottery ticket.
Yet Joe has seen with his own eyes the Bucs win games without Talib. And Joe has yet to see Talib play in a Pro Bowl. Is Talib talented? Darn right. But will the Bucs crumble and become the Yucs without Talib? Joe isn't buying that.