Joe Is Still Fired Up For The Rays
April 4th, 2011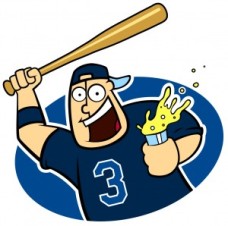 Yeah, Joe knows this is a Bucs blog but that doesn't mean Joe is a one-trick pony. Joe also follows the Rays. And yeah, Joe had some indigestion this morning because the Rays got swept in their season opener, at the Fruitdome no less!
Now it looks like Dirtbag is out three weeks! Ugh.
Make sure you read Joe's musings on JoeRaysFan.com, proud partner of the great Cork Gaines of RaysIndex.com.
Regarding Cork, he got together last night with the WTSP duo of hardcore Rays fans/Twitterers Matt Sinn (@mattsinn) and Mike Weber (@m_weber) in a cool podcast on RaysRev.com as the trio discussed their thoughts on the Rays' first three games of the season.
Also, don't forget about the NoExcusesTour.com. Luxury buses transport Rays fans from Lee Roy Selmons in both New Tampa and near International Mall to the Fruitdome and back every weekend game for $9.95 round trip!