ESPN Blogger: Dominik Will Rid Himself Of Talib
April 8th, 2011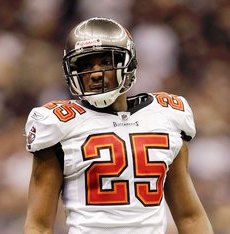 The man who works for the Disney syndicate and boasts of his residence in the Tampa area, otherwise known as ESPN NFC South blogger Pat Yasinskas, appeared on the "Primetime Show" heard on WHBO-AM 1040 Thursday afternoon to speak about the Aqib Talib saga and the Bucs.
In the opinion of Yasinskas, he told co-hosts Ronnie 'Night Train' Lane, Mark Carrier and Tom Krasniqi that Bucs rock star general manager Mark Dominik will rid himself and the team of the recurring headaches from the troubled cornerback in light of recent events where Texas police allege Talib pistol whipped another man and then shot at a fleeing subject, so good guy Krasniqi Twittered Thursday.
Yasinkas: Bucs are dumping Talib once the CBA gets resolved
Joe reached out to Krasniqi Thursday night so he could elaborate on what Yasinskas said. Krasniqi made it quite clear to Joe that Yasinskas was purely speculating based on his knowledge of the Bucs and Dominik; that Yasinskas was not told by a source that this will take place. Yasinsas was simply stating an opinion.
"He said the Bucs would try to trade [Talib] or cut him," Krasniqi said. "I've been saying for the last 10 years the Houston Texans have the worst secondary in the NFL. Seeing Talib go there where he would be back in his home state would be a logical move."
All of this makes perfect sense to Joe. Look, Talib is a gifted cornerback but he has become more than just a problem child. Talib simply cannot stay out of trouble and his more than annual incidents continue to grow more violent with each episode. No matter if he is found by a Texas court to be innocent of his recent charges, Talib is certainly looking at a multiple-game suspension by NFL warden commissioner Roger Goodell, thus has proven himself, like safety Tanard Jackson, to be undependable.
Players who cannot stay healthy are cut all the time in the NFL because they cannot answer the bell. In other words, teams cannot depend on them. Players don't just decide to go get injured. Injuries are largely unpreventable. With Talib and Jackson, each of their incidents was and is absolutely preventable. Both made multiple decisions that not only put their NFL careers in jeopardy, but cost themselves millions of dollars and put their personal liberties at risk as well.
If Dominik finds a suitor to trade for Talib, don't expect a whole lot in return. Consider last year the Steelers could only procure a late-fifth round pick for a player of at least equal value of Talib, wide receiver Santonio Holmes.
Teams generally don't fall over themselves to cough up valuable draft picks for players with a violent rap sheet who are facing a multiple-game suspension if not prison.