Draft Will Foretell Huggins' Future
April 15th, 2011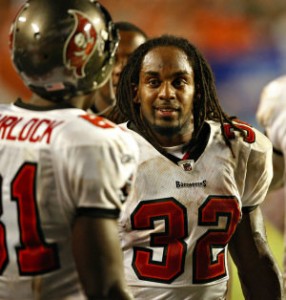 So many Bucs fans were wild with hope over the thought of Kareem Huggins becoming the shifty speedster running back the Bucs needed entering the 2010 season.
But Huggins went down with a massive knee injury, which followed up his 2009 knee injury that cost him a season.
Will the Bucs go for Round 3 with the undrafted kid from Hofstra that was out of football in 2008? Esteemed beat scribe Roy Cummings weighed in on Huggins' future via a fresh Q&A on TBO.com.
Huggins had complete reconstructive knee surgery. He blew out everything. It was a very bad injury, but the Bucs are confident he'll be back. The problem is, he never got a chance to really prove he could be an every-down or even third-down change-of-pace back so the Bucs have to prepare for the possibility that, after the injury, he's not an NFL caliber runner. That means looking at running backs in the draft. We'll get a good feel for how they really feel about Huggins during the draft …
Joe suggests you click the link above and read Cummings' entire response and more.
Huggins seems like a fine young man, extremely nice during Joe's many interactions with him. But one would think the Bucs could find a more promising prospect in the draft, or the second draft, as Mark Dominik sometimes calls it.
Huggins has accomplished nothing and is coming off a brutal knee injury. He almost feels like Cadillac Williams used to sans the huge achievements.
Joe suspects the Bucs will keep him around to see if he's got a Cadillac-style comeback in him.