Correction On Talib
April 16th, 2011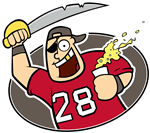 UPDATE 9:56 a.m.: Earlier today JoeBucsFan.com published a post that stated the felony assault case against Aqib Talib was reduced to a misdemeanor charge and he was headed for a sentence of probation.  
Joe jumped the gun.
Joe had talked to sources in Dallas on Thursday and, in conjuction with the case being assigned to a judge Friday and further follow up, Joe reached the wrong conclusion, though that's the resolution Joe expects in the case.
Mistakes happen, and Joe will not hide from his error.
This morning, Talib's Dallas attorney Frank Perez told JoeBucsFan.com that he "expects to take the case to the grand jury and have it resolved there," meaning Talib would not be indicted. "We've interviewed 17 or 19 witnesses and none of them say Aqib Talib had a gun. He wasn't handling a gun," Perez said.