Commish's Big Board
April 4th, 2011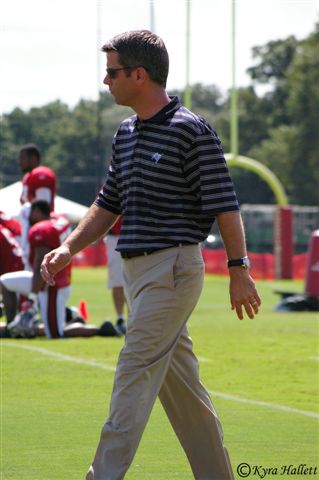 Only 24 days until the Buccaneers write a new chapter at the NFL Draft in New York. Will rockstar Mark Dominik earn more NFL Network groupies or will he come down to earth?
Of course, Dominik says the Bucs will stay true to their draft board. (Yeah, right.)
NFL Draft guru Justin "The Commish" Pawlowski, of WDAE-AM 620, serves up the latest revisions to his draft board. Remember, this is a ranking of the top available players, not a mock draft. Enjoy.
1. Patrick Peterson – CB – LSU
6'1'' – 219 lbs – 4.32
Commish's Take: Peterson's the most talented player in the draft. He's big and fast. Peterson has potential as a shutdown corner and elite return man.
2. AJ Green – WR – Georgia
6'4'' – 211 lbs – 4.50
Commish's Take: Green is the most talented receiver to come out since Calvin Johnson. Green might be the safest pick in the draft.
3. Von Miller – OLB – Texas A&M
6'3'' – 246 lbs – 4.53
Commish's Take: Miller is explosive off the edge. He really has little concerns and has no character issues.
4. Marcell Dareus – DT – Alabama
6'3'' – 319 lbs – 4.92
Commish's Take: Dareus is big and physical. His athleticism is underrated.
5. Julio Jones – WR – Alabama
6'3'' – 220 lbs – 4.39
Commish's Take: Jones is a physical freak with great size and speed. He has potential to be a dominant receiver.
6. Robert Quinn – DE – North Carolina
6'4'' – 265 lbs – 4.70
Commish's Take: I love Quinn off the edge. Quinn should be able to play end or outside linebacker. He has some minor medical concerns.
7. Nick Fairley – DT – Auburn
6'4'' – 291 lbs – 4.87
Commish's Take: More and more questions are rising for Fairley regarding him being a one-year wonder and lacking an elite motor. With that said, we all watched Fairley dominate for most of the year including the national championship game.
8. Tyron Smith – OT – USC
6'5'' – 307 lbs – 4.91
Commish's Take: Smith is the top tackle in the draft. He has excellent technique, long arms, and great athleticism.
9. Prince Amukamara – CB – Nebraska
6'0'' – 206 lbs – 4.43
Commish's Take: Amukamara is a talented corner who could be a solid starter for a long time in the NFL.
10. Cam Newton – QB – Auburn
6'5'' – 248 lbs – 4.59
Commish's Take: By now you know about Newton's strengths and weaknesses. His potential is just too big to ignore.
11. JJ Watt – DE – Wisconsin
6'5'' – 290 lbs – 4.83
Commish's Take: Watt is big and physical, but also has a lot of athletic ability. I'm not sure he'll turn into an elite player, but Watt is a safe pick that will be very good and a starter for a long time.
12. Cameron Jordan – DE – Cal.
6'4'' – 287 lbs – 4.78
Commish's Take: Jordan's talent and versatility to play in any type of defense makes him very valuable.
13. Ryan Kerrigan – DE – Purdue
6'4'' – 267 lbs – 4.71
Commish's Take: Kerrigan is another safe pick. He isn't the flashiest player, but his production at Purdue speaks for itself.
14. Aldon Smith – DE – Missouri
6'4'' – 263 lbs – 4.78
Commish's Take: Smith has a long frame, long arms, and is considered one of the top pass rushers in the draft.
15. Blaine Gabbert – QB – Missouri
6'4'' – 234 lbs – 4.62
Commish's Take: I do not like quarterbacks that are not accurate. Gabbert's accuracy for those 5 or more yards down the field is beginning to become more and more of a factor.
16. Anthony Castonzo – OT – Boston College
6'7'' – 311 lbs – 5.23
Commish's Take: Castonzo has great potential as a left tackle. He is very athletic and had a ton of experience at Boston College. I think Castonzo could be a 10 year starter in the NFL.
17. Da'Quan Bowers – DE – Clemson
6'3'' – 280 lbs – 4.85
Commish's Take: Injury concerns are beginning to mount surrounding Bowers knee. I still think he is a great player when healthy, but that is now the big question.
18. Muhammed Wilkerson – DT – Temple
6'4'' – 315 lbs – 4.96
Commish's Take: Wilkerson is a raw talent, but has a big frame and long arms. He has a lot of potential as either a defensive tackle in a 4-3 defense or as an end in a 3-4 defense.
19. Jimmy Smith – CB – Colorado
6'2'' – 211 lbs – 4.46
Commish's Take: This isn't a good comparison for Smith, but he is very reminiscent of Aqib Talib. Smith has a ton of talent and athletic ability, but character is a major concern.
20. Gabe Carimi – OT – Wisconsin
6'7'' – 314 lbs – 5.27
Commish's Take: Carimi is a typical Wisconsin offensive tackle. He is big, physical, and great in the run game. Carimi might be limited to right tackle in the NFL.
21. Phil Taylor – DT – Baylor
6'3'' – 334 lbs – 5.20
Commish's Take: I really think Taylor is moving up boards. This is not a deep class for nose tackles and Taylor is massive and mean. A team like Kansas City would be a nice destination for him.
22. Derek Sherrod – OT – Mississippi St
6'5'' – 321 lbs – 5.28
Commish's Take: Sherrod's a very balanced offensive tackle that saw his stock continuously rise since the combine. He can play right or left tackle right away.
23. Mike Pouncey – OG – Florida
6'5'' – 303 lbs – 5.28
Commish's Take: Pouncey is the top interior offensive lineman in this draft. Like his brother, Mike Pouncey could be a difference maker for an offensive line and offense.
24. Corey Liuget – DT – Illinois
6'2'' – 298 lbs – 4.99
Commish's Take: I'm not sure I see an elite player in Liuget, but I do see a solid player with good quickness off the ball.
25. Adrian Clayborn – DE – Iowa
6'3'' – 281 lbs – 4.83
Commish's Take: I've talked about the red flags with Clayborn, but he is still a talented player. He does have many limitations, but an invite to the draft in New York makes me think he's going to get drafted higher than most think.
26. Akeem Ayers – OLB – UCLA
6'2'' – 254 lbs – 4.80
Commish's Take: Ayers should be high on draft boards of teams that run a 3-4 defense. I think he'd be a good fit inside or outside in a 3-4. I also think he could step into a 4-3 defense and excel due to his experience. His stock had fallen a little, but he's moving back up.
27. Justin Houston – DE/OLB – Georgia
6'3'' – 270 lbs – 4.68
Commish's Take: Houston is a physical freak, but I have heard some rumblings comparing him to Vernon Gholston. Houston is big and fast. If he learns a move or 2 in the NFL, he could be a great pass rusher. Right now, he only tries to beat tackles with speed around the outside.
28. Danny Watkins – OG – Baylor
6'3'' – 310 lbs – 5.40
Commish's Take: At 27 years old, Watkins is older than an average prospect, but he is good. He has good technique, is very strong, and has an outstanding work ethic.
29. Mark Ingram – RB – Alabama
5'9'' – 215 lbs – 4.62
Commish's Take: Ingram is a very solid running back, but doesn't have elite features. He should be successful in the NFL, but should fall due to a lack of importance for the position. Why take Ingram in the first round, when undrafted free agents are winning the rushing title?
30. Kyle Rudolph – TE – Notre Dame
6'6'' – 260 lbs – DNP
Commish's Take: Injuries have been a concern for Rudolph, but if he performs well at his upcoming pro day, his stock will skyrocket.
31. Mikel Leshoure – RB – Illinois
6'0'' – 227 lbs – 4.59
Commish's Take: I really think the gap between Leshoure and Ingram is very small. Leshoure is a power back with great athletic ability. The more I see of him, the more I see Steven Jackson.
32. Christian Ponder – QB – FSU
6'2'' – 229 lbs – 4.65
Commish's Take: Ponder's an accurate passer with good leadership skills. His throwing arm is a concern, but he might be the safest quarterback in this class. That's not saying much though.
Just Missed:
-Martez Wilson – LB – Illinois
-Ryan Mallett – QB – Arkansas
-Stephen Paea – DT – Oregon St.
-Nate Solder – OT – Colorado
-Jabaal Sheard – DE – Pitt
-Cameron Heyward – DE – Ohio St.
-Jake Locker – QB – Washington