Aqib Talib And His Days At Kansas
April 4th, 2011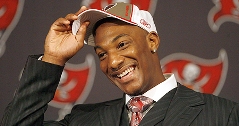 Filing from Texas, Rick Stroud of the St. Petersburg Times had a story trying to paint a picture of why Aqib Talib is the way he is and why he (allegedly) tried to pistol whip and then shoot at a fleeing man.
In the article, Joe's interest was piqued when Talib's former defensive coordinator outed Talib, the University of Kansas or former coach Mark Mangino.
"He tries to do that whole street thing, but don't let that fool you," said former University of Kansas co-defensive coordinator Clint Bowen. "He's very smart. I don't think he ever went to a single class, but he still got a 2.7 (GPA) at Kansas."
Joe doesn't know whether to laugh hysterically or to be outraged, not at Talib though.
Joe is a sick college football fan but also believes — maybe naively — that if you are in college on a free ride you should at least attempt to fake it and go to class. Joe simply finds it difficult to believe that a guy could pull damned near a B average and never go to class.
More to the point, Joe finds it outrageous that that walrus who coached the Jayhawks would turn a blind eye that his players aren't even going to class, much less the administration which tacidly approved of this behavior if Bowen's charge is accurate.
Whatever happened the Bob Knights of the world? Knight would hire team managers at Indiana and if those managers did not drive players to their morning classes each day, they were terminated on the spot.
Hey, if a guy can pull off getting a B-average without going to class, more power to him. But the gall that Bowen would brag about such a thing when he is also responsible for students with scholarships on the public's dime to attend classes.