Signing Davin Joseph A Priority
March 4th, 2011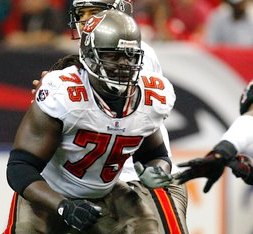 Mark Dominik, the Bucs rock star general manager, tries to pattern himself after two of the best general managers in the NFL: Pittsburgh's Kevin Colbert and Green Bay's Ted Thompson. Both of those front office executives believe signing a big-named free agent will result in an outbreak of the ebola virus.
Yet the two teams are two of the best organizations in football. Colbert and his Steelers have the hardware to prove it. It doesn't hurt that Danny Snyder and Jerry Jones, a pair of owners who throw cash at players like Joe would roses at Rachel Watson, own two of the more dismal organizations in the NFL.
But when it comes to signing a big-named free agent, Dan Parr of ProFootballWeekly.com believes Dominik would be wise to keep one of their own: right guard Davin Joseph.
Protecting the new face of the franchise, QB Josh Freeman, is a top concern for GM Mark Dominik, and having Joseph back in the fold is a priority. Joseph, the starting right guard who was selected to the Pro Bowl at the end of the 2008 season, is coming off a broken foot, but it's expected that he'll get an offer from Tampa Bay if he becomes an unrestricted free agent.
Joe has long heard that with the Bucs, "it's all about No. 5," quarterback Josh Freeman. So Parr makes a whole lot of sense. And Joe has a hunch Joseph will be signed, whenever football returns. Dominik will play his cards much like he did last year with left tackle Donald Penn.
As for shopping for a name replacement for Joseph, Joe sort of had an epiphany while flying to Dallas Super Bowl week reading a long feature about Thompson who even in his days with Seattle, scoffed at signing other team's free agents. In short, he claimed if said players were good they wouldn't be turned loose and that the vast majority of free agents are overpriced for their age.
Then Joe looks at Colbert and who is a better general manager than him? Seeing these two men, and seeing what Dominik did in last year's draft and what Chucky did and didn't do — he was a frequent shopper for free agents — Joe has come to the realization that breaking the bank for free agents is fool's gold.