More Raheem Could Have Bucs Leaning Defense
March 15th, 2011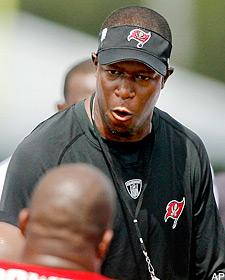 Mike Lombardi's column on NFL.com today talks about all the extra free time coaches now have in the lockout mess and about how coaches need to use the time wisely.
Well, for a guy like Raheem Morris, who already has his systems firmly in place, it's a safe bet Raheem's diving even deeper into evaluating potential draft picks. It's a process Raheem already enjoys and gets involved with as much as he can, so he's said publicly many times.
But with Raheem having all this extra time to watch film and wield his powerful influence in the Bucs' draft process, rather than text and call all his players and drill them with core beliefs, Joe has to think the Bucs are going to lean in a defensive direction when late April rolls around.
How could they not?
Raheem's been the star witness of the Bucs getting gashed over and over and over again in the running game, and failing to get to the quarterback.
If Raheem's not pounding the drums for a violent linebacker and a manbeast defensive end, then Joe's got him pegged all wrong.