Michael Spurlock's Value Took A Hit Yesterday
March 23rd, 2011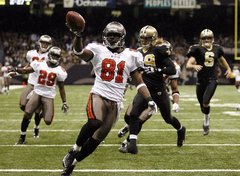 So yesterday — all in the name of trying to stem injuries — the NFL, at the urging of Richie McKay, decided to move kickoffs back to the 35-yard line. That's all but taken kickoff returns out of the game.
What once was a weapon is now useless. This may have nailed few players worse than Bucs return man Michael Spurlock.
Run Michael Run was a lethal weapon for the Bucs on kickoff returns. If he didn't bring one to the house, he certainly put the fear of doing so on opposing special teams coaches. Now a free agent, Spurlock undoubtedly was banking of hitting the bank as a result.
Now, nearly half his game has been taken away. Sure, he can still return punts, but 40 percent of his game was kickoff returns (40 percent punt returns and 20 percent as a receiver).
The Bucs simply are not going to throw big cash at a guy who is now a one-trick pony. Joe believes Spurlock still has a spot on the roster as a punt return man and as a reserve wide receiver.
But his value and stock sure took a hit yesterday.
Joe wonders what Spurlock thinks of McKay about now?