Linemen Will Bear Brunt Of Lockout
March 3rd, 2011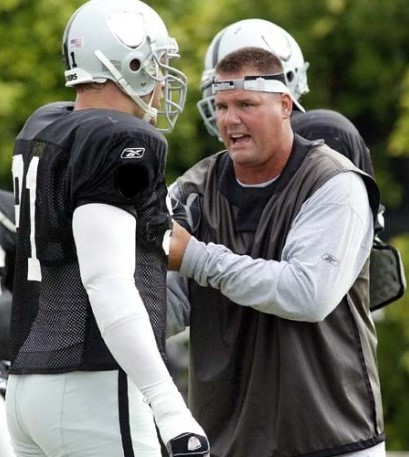 Despite the outrageous insinuation by Bucs union representative (he sure isn't representing his teammates) Jeff Faine that his fellow comrades in the NFLPA may be left panhandling for crumbs like a common street tramp if there is a lockout, there may be two elements to the Bucs that will be profoundly affected by the labor unrest.
That would be both sides of the Bucs' line of scrimmage.
An intelligent point made by good guy Stephen Holder of the St. Petersburg Times, he explains that units with new coaches will be the ones more adversely harmed by the lockout, which is moments away from happening.
In the past six weeks, the Bucs have hired offensive line coach Pat Morris and co-defensive line coaches Kevin Millard and Grady Stretz. They have yet to get an audience with their players because the offseason program isn't yet underway. But those players might not get the chance for a while if owners lock out the players, effectively shutting down the NFL.

That could prevent those linemen from having ample time to adjust to their coaches' new styles and philosophies. Different coaches often teach different techniques that players will also have to grow accustomed to, but none of that can happen unless and until there is a labor agreement — something that is uncertain, at best, right now.
This is an excellent observation by Holder. In the NFL, an offense/defense is usually installed in OTAs. The Bucs are not scheduled to hold their first OTA until after the draft, that is, if there isn't a lockout.
So, as Joe fears may happen, and Peter King's dire forecast of a 13-game season comes true, Bucs linemen will have to learn their new coaches' ways on the fly.
This is not good.