Joe Smells A Smokescreen
March 6th, 2011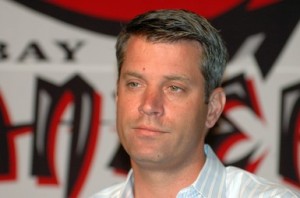 Joe has to apologize first. Joe's been sitting on an interview Bucs rock star general manager Mark Dominik had last weekend on Sirius NFL Radio, but Joe's been swamped with work and other personal duties so Joe hasn't had the time to transcribe it yet, which will likely take a long time.
But Don Parr of ProFootballWeekly.com seemed to hear the same interview and cobbled together a few of Dominik's quotes.
Just about any thinking person in the free world is aware the Bucs need dire help up front on defense, specifically from the defensive end position. Dominik has not exactly kept this fact a state secret himself. But lately Dominik has been hinting that quarterback Josh Freeman still needs more weapons to work with.
"(Freeman is) just touching what he can become, in our opinion," Dominik said at the Scouting Combine. "So any chance you have to keep him healthy, in terms of protecting him, or give him more toys or weapons to work with, we're going to do that. So I think a lot of people have pigeonholed us about what we're going to do in the draft. And I would say that I don't think a lot of people would have said we would take two defensive tackles back-to-back (in the first and second rounds) last year. So we're going to use the draft and stay true to our board and make sure we take the best player that can help us. And it may not be the position that everybody thinks we should take first, but it's going to be the best that we think is going to help our football team going forward."
The smoke is starting to get so thick in Joe's home office his eyes are burning. Look, no one expected Dominik to take two defensive tackles right away in the draft last year but virtually everyone expected him to take a defensive tackle.
Now Dominik is not a dumb guy. If there is a run on defensive ends maybe Dominik won't reach for one selecting 20th overall so he may go with the best player available and yeah, that could be an offensive tackle.
But Joe does not believe for a minute that Dominik won't be drafting defensive ends.