Blount Impacting 2011 Draft
March 6th, 2011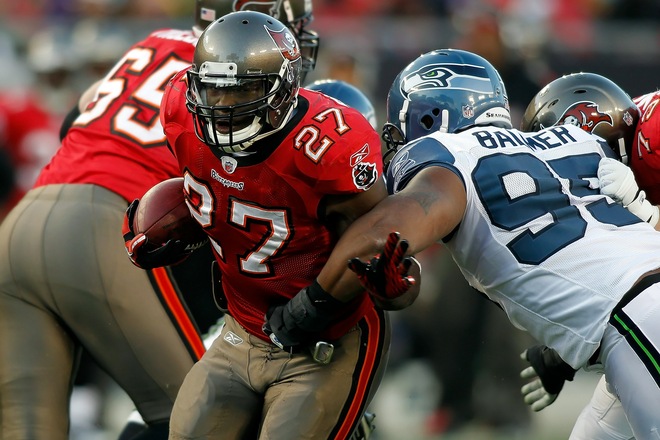 As a healthy American male, Joe can sit on his couch and turn on the NFL Network. What a simple pleasure some men choose to enjoy. Joe did just that before heading off to Derby Lane last night.
During some NFL Network chatter Saturday, former personnel executive and popular analyst Mike Lombardi talked about how the top running back in this year's draft class, Mark Ingram out of Alabama, can move mountains during his upcoming pro day but it won't help him overcome the LeGarrette Blount factor.
Lombardi made the point that Blount's 1,007 yards as an undrafted player, on the heels of success by other late-round and undrafted running backs, will have a lot of teams hesitant to take Ingram early in the first round.
It's a bit ironic that the great popcorn shoveler, Peter King of Sports Illustrated, thinks this could lead the Bucs to draft Ingram at No. 20.
While Joe's not seeing the Bucs going anywhere near a running back in the first two rounds, Joe wonders what kind of chemistry issues could arise  if the Bucs did grab a wide receiver or a running back in the first two rounds.
The reality is that Mike Williams and Blount will earn peanuts for at least the next couple of seasons. The high draft pick would earn a heck of a lot more, if there's no rookie salary cap with the new labor agreement.
Assuming Blount and Williams remain the Bucs' top dogs at their positions, it would have to be hard for them to have rookies alongside them earning monster paychecks. Yeah, they're professionals, but that doesn't always mean it's easy.