"Batting Leadoff For The Rays… Raheem Morris"
March 7th, 2011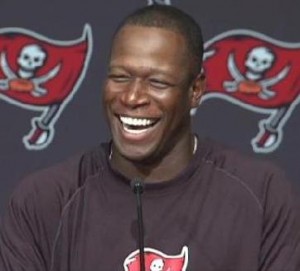 Joe has documented several times how Bucs coach Raheeem Morris and Rays manager Merlot Joe Maddon have formed a special, tight bond. The two have been known to meet for adult beverages — of course, Merlot Joe prefers wine — at trendy south Tampa hotspots and are both known to attend Lightning games together.
Now, it appears Raheem could be donning Rays gear for Tampa Bay's defending American League East champions.
Just a few moments ago, Merlot Joe Twittered about special visitors at Rays spring training tomorrow.
@RaysJoeMaddon Bucs head coach Raheem Morris and some of his coaches will be coming to Port Charlotte tomorrow. One of them is going to suit up.
Joe could easily see Raheem being a center fielder. He still has wheels and Joe's going to lay cash Raheem can fire a ball from the warning track a whole lot better than Johnny Damon.
The critical question is, can Raheem "work the count" as we all know how much Merlot Joe covets walks the way most others covet doubles and home runs?
If Raheem isn't going to suit up, Joe believes Keith Millard could crush a few pitches like MannyBay.
UPDATE: Intrepid WTSP producer and hardcore, diehard Rays fan Mike Weber suggested on Twitter that Raheem will impart his sage advice upon Merlot Joe that "stats are for losers."