Aqib Talib's Incidents Growing Worse
March 28th, 2011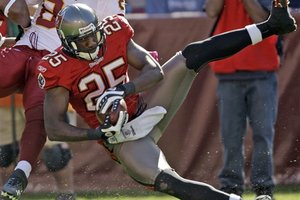 With the news of Aqib Talib's failed attempt to play Sonny Corleone, the immediate concerns of the Bucs secondary came to Joe's mind.
No, Joe still is against going after a mega-free agent cornerback. Too costly when there are other much greater areas of needs for the Bucs (linebacker, defensive end, offensive line spring to mind). Besides, the Bucs secondary is solid, as documented by FootballOutsiders.com.
But with the very real chance Talib may miss games, Joe wonders if this changes Bucs rock star general manager Mark Dominik's draft plans? Or more precise, what to do with Talib?
Per Rotoworld.com, Talib signed a five-year, $14 million contract in July 2008 that includes $8.2 million guaranteed. 2011: $1,653,750, 2012: $1,852,500, 2013: Free agent.
With Ronde Barber retiring after the 2011 season, would the Bucs see fit to let Talib loose too, thereby creating at least one hole in the secondary?
Surely the Bucs are tired of dealing with all of Talib's violent antics and to be frank, they have escalated. First, throwing down at a rookie symposium. Then, wielding a helmet at teammates which could have put someone in a hospital, or worse. That was followed up by slugging a cabbie while flying down the highway at 55 mph (or more). In between he had a cursing tirade at his head coach in a hotel lobby in England and got a little crazy with NFL officials after a close loss at Baltimore. Now, an assault and gunfight.
The next incident, well, Joe doesn't want to think about it.
Dominik will surely wash his hands of Talib after the 2012 season, letting him walk and be someone else's headache.
If Talib makes it that far.