Rays Tix From Paradise Worldwide Transportation
February 14th, 2011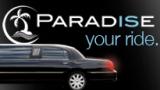 Joe's good friends at Paradise Worldwide Transportation give away great prizes to their Facebook friends.
Now they've got a pair of awesome tickets behind the Rays dugout for the Rays at Blue Jays game on Sunday, March 13, at 1 p.m in Dunedin. Spring Training baseball at its finest!
To have a chance to win, all you have to do is "Like" Paradise Worldwide Transportation on Facebook. Just click right here to get it done.
The drawing will be March 1. If you already "Like" Paradise, then you're already in the running. Good luck.
And it's not too late to call Paradise for your Valentine's Day needs. You're guaranteed to hit a home run with a limo for your lady.