Bucs Will Have Two Draft Classes
February 14th, 2011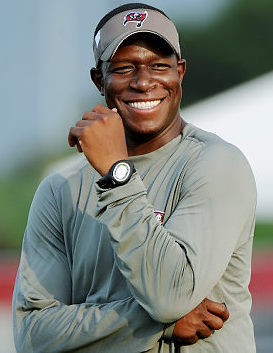 Save for the Super Bowl champion Green Bay Packers, few if no other teams had as many critical injuries as the Bucs did last year.
It started with Brian Price and didn't end until Arrelious Benn was lost. Some 11 starters put on the injuried reserve list.
The prospect of those players coming back has Raheem Morris fired up, so reports Rick Stroud of the St. Petersburg Times.
"I got a whole draft class coming back when you think about it, and that's pretty exciting," Morris said. "I got two or three first-rounders (McCoy, Joseph, Talib), a second-rounder (Price), a starting center (Faine), my starting safety (Grimm) who was playing lights-out. And don't forget about a guy like Demar Dotson, who was all the talk in the preseason.

"We think all those guys will be back and ready to go, if not by training camp, certainly by the start of the regular season. They're all doing well."
Joe has absolutely nothing against Jeff Faine but the way Jeremy Zuttah played in Faine's absence, given the veteran center's salary, Joe would be surprised if Faine returns for the 2011 season wearing pewter and red.
But Joe gets where Raheem is coming from. Given all the injures — the Bucs still won 10 games — and the fact all of the rookies got precious playing time last season, the prospects of next season have a tinge of excitement to them.
If there is a next season.