Raheem Explains How To "Generate A Fan Base"
February 28th, 2011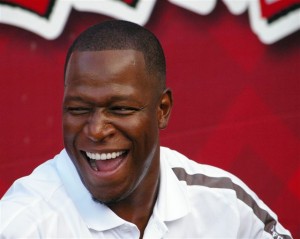 For those who missed the Ch. 8 multi-part feature interview with local head coaches Raheem Morris, Joe Maddon and Guy Boucher last week, it was pretty good stuff.
When Joe's not feeling as lazy, he'll link to all the segments on TBO.com.
The coaches gathered in a dimly lit room to sit on comfy chairs and answer all kinds of questions from good guy Dan Lucas. Raheem was asked about lockouts and drawing bigger crowds in the Tampa Bay market, and here was his response verbatim:
"We have a certain way down here. (looking at other coaches) We're not going to make excuses about what we don't spend. Myself, my management team, with Mark Dominik and our ownership, we got a vision. It's to draft players. Do well in the draft. Get'em to come here and play. Remain young. Have a longevity of winning. And then re-sign our own players and make those guys play for us and be great," Raheem said. "And we truly believe in that. And that's how you generate a fan base. That's how you get the fans to buy in. That's how you get the fans to be a part of that family. And once that happens again, we'll get that place filled. And I got all the confidence in the world."
First, considering Joel Glazer said "money will never be an issue" when building the Buccaneers, and Raheem works for Team Glazer, why would Raheem even mention making excuses about spending? That sure seemed to come from left field for a coach who works for an organization that proudly proclaims it does everything possible to build a winner.
The more one listens to Raheem and Mark Dominik voice their philosophy (which continues to resist the mere mention of free agency), the more obvious it is that the Bucs will take one or two defensive ends high in the draft.
They're desperate for the quarterback pressure, and they're publicly disinterested in obtaining an established pass rusher. 
Dominik doesn't think the Bucs should be pigeonholed by draft pundits, so he said last week, but by turning his nose at the biggest free agent class in history, Dominik's all but asking to be pigeonholed.
Joe's not sure if it's all an elaborate series of smokescreens, or the Bucs are determined to not grab one impact free agent.