Pat Kirwan Talks To Joe
February 7th, 2011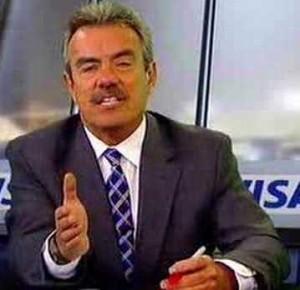 There are very few NFL talking heads Joe respects more than Pat Kirwan. A former coach and personnel executive with the Jets and a scout with the Bucs, Kirwan works for a variety of outlets, including a weekly column on NFL.com, video breakdowns on CBSSports.com and an afternoon drivetime show he co-hosts with Tim Ryan, "Movin' the Chains," heard exclusively on Sirius NFL Radio, which in Joe's ears is by far the best NFL broadcast in the free world.
Joe caught up with Kirwan on radio row last week at the Super Bowl Media Center in Dallas, and Joe asked Kirwan specifically why he believes that should the Bucs let free agent middle linebacker Barrett Ruud walk, it would be a grave mistake for the young Bucs defense.
JoeBucsFan: Joe tries to keep an open mind about Barrett Ruud. Joe hears his supporters;  hears his detractors. Joe heard you say, heard it live about two weeks ago, a Bucs fan called your show and said one of the first things the Bucs should do is get rid of him. You said you would grade [Ruud's play] out to an A-minus. What is it that a lot of fans don't see that he does so well?
Pat Kirwan: Well, first he lines up everyone up on the defense. There are a lot of guys who play well but can't line up. So he is the quarterback of the defense. No. 2 he is terrific in his zone drops. He's smart and he understands the defense. He's never going to be flashy. I can look at that defense and find four or five guys who would collapse mentally if he is not out there with them. He's the quarterback.
Joe: A lot of people say that calling defensive plays is interchangeable [the Bucs went from Hardy Nickerson to Jamie Duncan to Shelton Quarles calling defensive plays in a short span of seasons with no discernible dropoff], that they can coach others to call plays.
Kirwan: Well, they've never coached anybody. We had a guy in New York named Kyle Clifton back in the late 80s and early 90s. Not a flashy player but we were always trying to replace him. When we finally replaced him, we called him back and brought him back. We realized that there were players that were leaning on him in the huddle and when people changed formations and motioned people, it was Kyle. When I talk to Barrett and watch how Barrett plays — and I've talked to him about it many times — that is what he brings to the table that is never measured in tackles, sacks and interceptions.
Joe: Do you also think it's a perception problem, that he is basically more of a safety than a middle linebacker? Everybody has a perception of a middle linebacker: Lambert, Ray Nitschke, Ray Lewis, guys like that?
Kirwan: Tampa Bay has had a great defense and they have never had a guy like that. They have always played with an undersized, smart guy. Monte Kiffin trained me in that defense.
Joe: What is your background with [Kiffin]?
Kirwan: We were together with the Jets. I was working with the linebackers and Monte trained me and I know exactly what the Mike has to do in that defense. [Ruud] doesn't have to be Ray Nitschke. He has got to be a guy that can drop into deep coverage when you ask him to, he has to change the stunt up front. Let's say we are going to ram the front. Then the tight end changes to the other side and now we have to change it to a spike. You better have a quarterback sense to make the play. It's like audibles. And that is what [Ruud] is able to do.