Jeff Faine All But Punched His Ticket Out
February 18th, 2011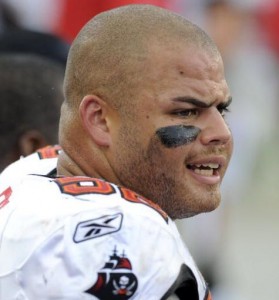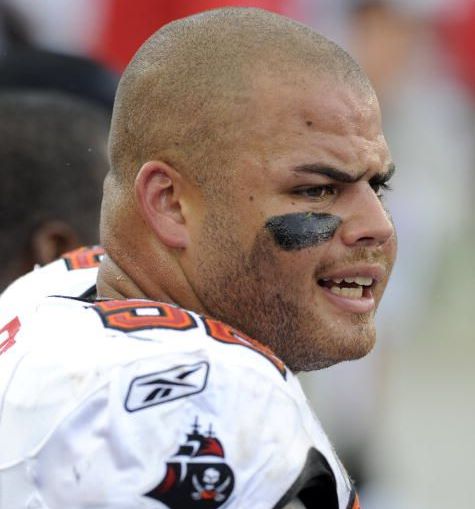 Joe's had a rough few hours and it has nothing to do with too many beers but everything to do with alleged Bucs team captain Jeff Faine and his selfish words.
In light of Faine mocking his teammates for wanting to do whatever it takes to stay on top of their game during the expected lockout (as opposed to mouthing off on radio or selling shirts, perhaps), Joe believes Faine pretty much punched his ticket out of Tampa Bay with his comments Joe documented yesterday.
Let Joe tell you a story, in case you have missed it. Bucs rock star general manager Mark Dominik has told this often on Sirius NFL Radio and to Joe's good friend "The Big Dog," Steve Duemig of WDAE-AM 620.
Joe's going to paraphrase here but the words are pretty much verbatim as Joe has heard Dominik recite the story more than a few times.
It was last winter, a cold morning by Tampa Bay standards. But for front office employees, One Buc Palace was virtually empty. From his office, Dominik was on the phone speaking with Bucs president Joel Glazer about team matters when Dominik glanced out his window and saw Josh Freeman working on passes on the practice fields.
Dominik interrupted his conversation with Glazer, saying, "I just thought you'd like to know that your first round draft pick of a quarterback is out here on his own time trying to get better."
Glazer, with the ugly memory of the Bucs' three-win season fresh in his mind, retorts, "Well, shouldn't they all be?" Dominik responds, "Well, yeah, they should be… "
Then fast-forward to Faine's scoffing of Freeman trying to get his teammates together for workouts at local high schools since One Buc Palace will be off limits.
Just about every man (we all know the only people who do not have the NFL Network are those who visit an OB-GYN clinic) who has watched the "America's Game" segment on the 1982 Redskins knows that the Redskins were so successful that year, in large part, because quarterback Joe Theismann gathered the Redskins together during the 1982 strike to practice daily. It wasn't just a few offensive players, it was the team.
Not one player on that team suggests they didn't have a leg up on the rest of the NFL because they were ready to roll once the strike was over.
Five years later there was another labor stoppage. Guess which team continued to work out on its own? Guess which team won the Super Bowl?
Yup, the Redskins.
So Faine mouthing off at his teammates wanting to better themselves in an effort to perhaps make a playoff run when there is a new CBA in place smacks Joe squarely in the face — a selfish player who is more concerned about a payday than his team's success.
Not exactly the expected behavior of a respected team captain.
Given the fact the Bucs fared very well without Faine when Jeremy Zuttah played center, and that Faine has missed significant chunks of each of the past two seasons due to injury, as well as Faine getting sort of long-in-the-tooth for an NFL center, Joe's going to guess it's very likely we have seen the last of Faine in a Bucs uniform.
Now do not mistake this as some sort of agenda against Faine. Joe thinks he's a good guy and has nothing against Faine. But given how surprised/unsettled Glazer was that the Bucs were not putting in extra hours to improve after one of the most dismal seasons in recent memory, Faine getting up in years, and now his damning words of his teammates efforts, in effect trying to Pearl Harbor any real momentum the team can generate in the labor stoppage by all but pleading with his teammates not to work out on their own, Joe would be shocked if Team Glazer brought him back for another season.
Let's just say if it is up to Team Glazer, Faine will have plenty of time to devote to selling clothes at his Orlando haberdashery.