Is Character Really A Concern?
February 15th, 2011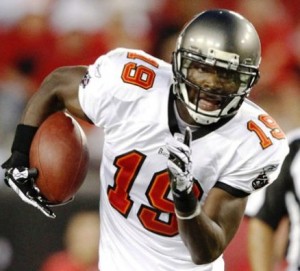 Joe is confident his readers are monitoring his good friend Justin Pawlowski, the critically-acclaimed WDAE-AM host of "The Blitz," sometimes heard on Saturdays, who delivers unequaled daily draft coverage for Joe.
Of course, Pawlowski over the next couple of months will focus on what the Bucs need in the draft.
Steve Wyche of NFL.com believes the Bucs are in need of character.
3. What are the biggest areas of concern?
The character of nucleus players Blount, Aqib Talib, Williams and maybe Tanard Jackson is more of a concern than their talent.

Let's start with Blount and Williams, who had great rookie seasons. They were top-tier talent coming out of college who fell in the draft — in Blount's case, fell out of the draft — because of character concerns. Both players stayed the course in 2010 and had great seasons, in large part because they were hungry and eager to prove themselves to teams that passed on them. Williams, especially, has Pro Bowl potential. Blount only signed a one-year deal but Tampa Bay retains his rights. They'll probably keep him on a short leash in the hope that he continues to develop.

If their success takes away their edge, then their production could decline. Morris has to monitor this.
Joe has zero idea why Wyche would invoke Williams' name. With all the stabbings and assaults going on with NFL players in the past couple of days, Williams' "offense" shouldn't even register a blip on the radar.
Is Wyche also writing about other NFL players who were guilty of the cardinal sin of speeding, really? There must be scores of NFL players who have been popped for speeding since the end of the regular season, but Wyche decides to focus on Williams?
Exactly why?
Now Joe believes Wyche had an interesting point in referencing Talib and Jackson as players who walk a dangeous line due to their behavior, but Williams should not be lumped in with these two guys.
It's not only grossly unfair to Williams, it's simply inaccurate and destroys whatever premise Wyche is trying to build.