Gerald McCoy Should Blow Up
February 17th, 2011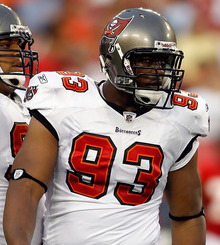 Bucs rock star general manager Mark Dominik hit on just about every draft pick last year that is still a full-time football player. Still, some agitated Bucs fans point to Dominik's first two picks of 2010, defensive tackles Gerald McCoy and Brian Price, as being non-factors and perhaps bad picks.
This is preposterous. Rare is a defensive tackle who shines in his first year in the NFL and yes, manbeast Ndamukong Suh is that rare beast.
Buccaneers.com (likely multimedia savant Scott Smith) re-ran an interview with Dominik that originally appeared on the team's site prior to the Bucs final game against the Saints. In it, Dominik explains how GMC was turning the corner when he was injured.
How pleased were you with the play of Gerald McCoy before he suffered his season-ending injury? Did he look like he was becoming the player you expected him to be when you drafted him third overall?

It's unfortunate, his injury and what happened, because he was playing his best football, and he had been for almost four straight weeks where he was consistently playing at a high level. I think it was just understanding and just getting his mind and feet wet in the National Football League and what actually happens inside and how tough it is to play in there. A lot of times you're not sure what a defensive tackle can do in his first year, but he was playing at a really high level, having multiple-sack games, and making a lot of tackles. It was disappointing, but I've been proud of how Gerald has handled the injury. I think that's the one thing that should be most encouraging. He's tuned in and he loves the Bucs. We're looking forward to him coming back next year.
Dominik nails it again. There is no question that GMC struggled. But when he finally went public with his frustrations with then-defensive line coach Todd Wash and threw his hands up and promised to just play by instinct, GMC's play spiked. In fact, in the four games prior to his injury, GMC's numbers were better than Suh's.
Now with a new defensive line coach Keith Millard (with the blessing of one Warren Sapp), GMC should really blow up. Joe's expecting big things from GMC this season.
If there is a season.