Winning 11 In 2011 Will Be Historic Challenge
January 18th, 2011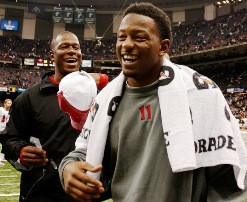 The Bucs race to 10 was so improbable, Joe, sober, actually thought he had a shot at Rachel Watson.
[Post intermission: Joe has learned Rachel now goes by the legal name of "Rachel Clark" and sports a monstrous piece of ice on her hand. Sigh!]
The Bucs had their biggest turnaround in franchise history and became only the 15th team in the last 20 years to post such a turnaround.
History suggests a let down next year, documents eye-RAH! Kaufman of the Tampa Tribune.
The Bucs are one of only 15 teams since 1990 to improve by at least seven wins from the previous season. Out of that group, only the 1997 New York Jets managed to increase their win total again the next season, so Tampa Bay players and coaches will be dealing with a daunting legacy in 2011.

The other 14 clubs all went backward by varying degrees after their big surge and teams such as the 2006 Ravens, 2001 Bears and 1998 Falcons fell by at least eight wins in the season after their huge jump.
One reason the Bucs were able to do a virtual 180 from the 2009 dreadful season was taking advantage of the abysmal NFC West. That was a virtual lock of three wins right there.
The Bucs have a tougher schedule next year. So winning 10 or even 11 this season — provided there is a 2011 season — will be a formidable challenge.
The positive way to look at this would be the Bucs should learn from their choke jobs against the Dixie Chicks (twice) and the Lions. Throw in the fact that all the injured players should be healthy, if there is a season, 10 wins may not be out of the question.