What's The Deal With Nnamdi Asomugha?
January 18th, 2011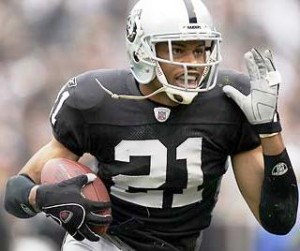 Sometimes Bucs fans crack Joe up.
The race to 10 was barely hours old and all of a sudden the name Nnamdi Asomugha started appearing in the comments of this here site as if the man himself said he'd work for free in Tampa Bay.
Joe's not sure how it got started, where it got start or who started it, but it's now like a runaway train, despite the premise being as logical as Joe choosing the lucky lady between Rachel Watson, Jamie Hanna or Nina Stauffer who he will bed with tonight.
This crazy rumor has even reached the e-mail in-box of Woody Cummings of the Tampa Tribune who similarly dismissed the notion, as well he should.
Q: Should the bucs get Nnamdi Asomugha in free agency to play along side Aqib Talib I then think they would have two shut down cornorbacks. then I think you could put more in the box to help the run defense

Eddie Turks, Alton, Ill.

A: Adding Asomugha would be great, but the Bucs believe they have two very good young corners in E.J. Biggers and Myron Lewis. There's also a good chance they'll have Ronde Barber back for next year, so I don't see them making a play for Asomugha.

— Woody Cummings
Joe just doesn't know where to start with this rumor. Generally, if a team is going to throw a wad of cash at a player, it's generally a position of need. Secondary may be the Bucs' deepest position on the team. Only Matt Millen would go out of his way to get a stud free agent at a position said player is not needed.
As Cummings points out, if Barber comes back, where does Asomugha play, is Aqib Talib to be benched?
The Bucs need help — some would suggest dire help — at linebacker and there is no question defensive end is an area of concern. Cornerback is not one of these areas.
Also, when is the last time Team Glazer broke the bank for a young free agent, Simeon Rice? How many years has that been, nine, 10?
Additionally — for reasons unknown to Joe  —  fans just will not accept it and choose to ignore it despite it being the elephant in the room — it's foolish to go all George Steinbrenner on a player if no one knows what the salary cap will be when the CBA is agreed upon. Foolish unless one doesn't have a problem painting themselves into a salary cap corner.
Sure, Dan Snyder will go out and throw his bankrupt Six Flags money at a player — is this the type of owner Team Glazer should pattern itself after? When's the last time Dan Snyder's team won a playoff game despite him throwing money all over creation?
Jerry Jones is also unafraid to spend money on free agents. When has he last won a playoff game?
The Steelers don't go out and buy free agents. All that team does is win Lombardi trophies.
If one still believes the Bucs will sign Asomugha, Joe will let you have the leftovers between the three aforementioned lasses when Joe's through with them.