Todd Wash's Days May Be Numbered
January 11th, 2011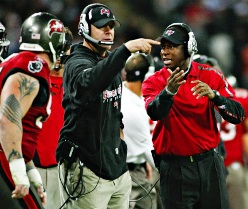 There is no question that the position on the Bucs that played poorly if not underperformed was the defensive front.
More often than not on a Sunday, Joe had more bagels in a sack than the Bucs had a sack. The Bucs' rush defense was poor, but Raheem Morris worked miracles it seemed to squeeze whatever juice was left in this lemon.
Well, per Judd Zulgad of the Minneapolis Star-Tribune, Vikings defensive line coach Karl Dunbar has been offered a gig by the Bucs.
The Buccaneers are believed to have made an offer to defensive line coach Karl Dunbar to coach the same unit in Tampa Bay and there is little the Vikings could do if Dunbar decides to accept. Unlike many of the Vikings assistants, his contract is expiring and he will become a free agent. If nothing else, this will create some nice negotiating leverage for Dunbar.

Dunbar has been the Vikings defensive line coach since 2006, when Brad Childress hired him to be a part of his first staff.
Wash was scrutinized heavily when Gerald McCoy got off to a slow start and admitted he was pretty clueless through the first four games. Wash also felt heat when the Bucs' rush defense was gashed repeatedly and the team's sack total was flirting with a dubious league record this season.
Former Bucs defensive end Steve White also fired some piercing shots at Wash on his blog.
Dunbar, 43, played defensive lineman in the NFL and coached under Lovie Smith in Chicago and joined the Vikings staff in 2006.
Joe's all for a change. This guy Dunbar has had some great success. The Bucs also have enjoyed great success with former players as position coaches in Alex Van Pelt and Eric Yarber. That experience has to be a big positive for young players.
The interesting element to this is that both Dunbar's contract with the Vikings, and Wash's contract with the Bucs, is up.
Look, rock star general manager Mark Dominik has invested a boatload of Team Glazer's cash the past two seasons on the defensive line. Of course there is GMC but also Roy Miller and Kyle Moore, all drafted the past two seasons.
Throw in Brian Price, who was hurt, Dominik simply cannot be pleased with the progress, or lack thereof, of the defensive line. They simply have not developed. Miller horribly regressed this year. Stylez White took a step back. Moore is more a rumor than a player. GMC was publicly frustrated with Wash.
The new face and new ideas cannot be a bad thing here. If Joe were Wash, he'd be updating his resume.