Roy Cummings Talks To Joe
January 23rd, 2011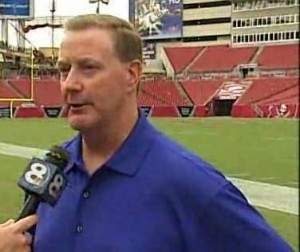 Joe often checks in with his beat writer brethren to talk Bucs football and kick around the latest buzz. Some of these guys are actually pretty cool. The esteemed Woody Cummings, of the The Tampa Tribune and TBO.com, was gracious enough let Joe hit him up for a Q & A exclusively for JoeBucsFan.com readers. Below is Part I to enjoy on this championship Sunday. Part II will be here tomorrow.
Joe: The Bucs have huge decisions to make along the offensive line. Davin Joseph likely will command serious money in free agency, but he's been hurt two of the past three years and the Bucs didn't exactly suffer without him. Jeff Faine is a fat contract on the books for 2011, but he's got a capable replacement on the roster and has missed a lot of games. What do you think the Bucs' priorities are here?
Tampa Tribune beat writer Roy Cummings: I know for a fact that one of the Bucs' stated priorities is to develop draft picks and retain them once they hit free agency. That would seem to answer the Joseph question. It does for me, anyway. Sure, Joseph has battled some injuries the past couple years, but he's a Pro Bowl caliber guard and if they lose him they start cutting into their depth. You don't want to do that. That's why I think they'll retain Jeff Faine as well. What a lot of people don't realize is that Faine's salary for 2011 is actually less than it was in 2010. He's slated to make $4.575 million this year after making $5 million last year. So, I think he'll be back, too.
Joe: We're always hearing that the Bucs are "all about No. 5." Do you think the Bucs are satisfied with Ryan Purvis and John Gilmore playing tight end behind a fragile Kellen Winslow?
Cummings: No I don't, and I wrote as much in my Bucs Beat column. With Gilmore being a free agent and already in his early 30s I believe tight end is one of the real needs the Bucs have to address this offseason. They may go the free agent route here, because this year's tight end draft class is not all that great. If not, I wouldn't be surprised at all if they spent a second- or third-round pick on a tight end.
Joe: There have been grumblings out of San Francisco that Jim Harbaugh could want Josh Johnson. Everybody's got a price. What would it take for the Bucs to part with him?
Cummings: If it were me I'd be asking for a second or third-round draft pick, and here's why. What are the Bucs supposed to do if Josh Freeman goes down? Pack it in, turn to Rudy Carpenter. No, they're going to turn to Josh Johnson, who they drafted with the idea of developing. And they have developed him into a unique weapon. The Bucs have a lot of plays in their playbook for Johnson, so he's a valuable commodity. You have to think that if the 49ers want Johnson it's with an intent to make him their starting quarterback. If I'm the Bucs, I'm not in the business of giving away starting QBs to teams that I might be facing in the playoffs. I know Jim Harbaugh has a relationship with Johnson that dates back to college, but I find it a hard sell for Harbaugh to come in and say we're going to build our team around this guy I had in college. I may be wrong, but I don't think Johnson's going anywhere. At least not for a year or two.