Ronde Barber May Decide In "Couple Of Weeks"
January 7th, 2011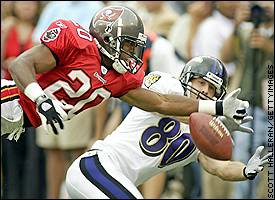 Watching Bucs games this year, it was difficult for Joe to fathom that Ronde Barber is, by NFL standards, older than a graveyard.
With Bucs players, rookie players, younger players, dropping like birds in Arkansas, there was old man Barber making splash plays in the run and humbling wide receivers half his age with twice the ego.
Until Joe read Tom Balog of the Sarasota Herald-Tribune this morning, Joe was unaware Barber is second to only Derrick Brooks for number of games played for the Bucs.
Balog spoke with Barber after the Bucs season-ending win over the Saints and, despite rock star general manager Mark Dominik's comments that he wants to resign Barber, the Bucs' senior citizen is not quite ready to commit to another season, whenever that may be played.
"Those things will become clearer, I think, in the next couple of weeks," Barber said. "Whether it is, whether it isn't my last game today, I've played with a lot of pride, man, and had fun doing it."
Initially, Joe thought Barber would not come back if there is a labor stoppage of some sort. But upon further reflection, Joe's of the mind that a labor stoppage may in fact encourage Barber to return.
If next season — provided there is a next season — is shortened due to a walkout/lockout/strike/hangover, that means there will be less games played meaning less wear and tear on Barber's aging body.
Getting beat up for, say, 12 games, is a whole lot better than getting pounded on for 16.