Raheem's Holy Trinity: Brooks, Maddon, Tomlin
January 6th, 2011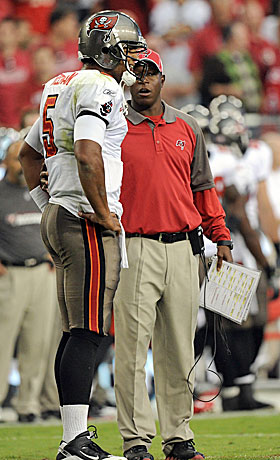 Outside the braintrust parked inside One Buc Palace, Raheem Morris has key advisors helping to shape his core beliefs and game preparation.
It's a big-name threesome working independently to mentor and stimulate the head coach to be his best self, so Raheem explained during his surprise call-in interview to The Dan Sileo Show on WDAE-AM 620 on Tuesday.
Sileo asked Raheem who he reaches out to during the season for advice.
"You'll be shocked, man," Raheem said. "I got three that I don't know if I reach out to them, but we stay in touch with each other.

"Derrick Brooks is one of my biggest supporters. He calls me behind the scenes probably once a week. We talk about things. We talk about the team. We talk about development. You know, it's kind of ironic. Derrick's still a part of this family. He still helps me out tremendously through texts, through conversations on the phone, through whatever we need. You know, whether it's fixing something on defense or just talking about the style of play. We do that all the time.

"Coach Maddon over at the Rays, phenomenal advice, phenomenal when it comes to talking to me about planning and how you're going to attack the media and the message, and all the things that he gives his team through examples. It's been unbelievable.

"Mike Tomlin, we talk every Monday. And we kind of go across whatever situation may happen. …And we dream about meeting in Dallas this year. Unfortunately that won't happen.

"I gotta nice base of people that call me. I gotta nice base of people that I call and reach out to. And not necessarily to be, 'Oh, woe is me.' But it's just about mental toughness and us developing what we want to be and how we want to do it."
So to summarize:
Brooks helps fix the defense.
Maddon helps package the messaging to the media and the team.
Tomlin acts as a sounding board and offers situational advice.
Not a bad trilogy, Raheem.
Joe hopes the Bucs image/marketing gurus serve up Raheem to the local and national business publications of the world and get a feature story written about the young coach's management approach. There are so many boring young CEO stories written out there, it's almost criminal to keep the Raheem way under wraps.
Might even sell some tickets and stimulate confidence among those coveted corporate club-seat buyers.
As for Joe Maddon giving advice, Raheem months ago explained that Madden advised him to push the "Race to 10" message boldly and publicly. Turned out to be sound advice.
Joe hopes Raheem returns the favor and advises Madden not to return B.J. Upton to the leadoff spot anytime soon.