Raheem Makes Freeman-Manning-Brady Analogy
January 22nd, 2011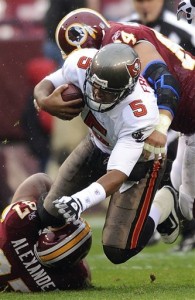 The Bucs' fiery head coach/defensive coordinator thinks the world of Josh Freeman. Rightfully so. But is Freeman already on the same level as future Hall of Fame inductees Peyton Manning and Tom Brady?
Raheem Morris seems to think Freeman is at least in the ballpark.
On Friday, former Bucs QB Shaun King, co-host of The King David Show on 1010 AM, asked Raheem what Freeman needs to improve in the offseason. Raheem responded by saying Freeman needs to just keep up what he's doing.
"Repetitive development of what he did last year. …You're only as good as your preparation," Raheem said. "…Brady and Manning don't go out and change what they do, they improve on themselves."
Sheesh. That's some strong company for Freeman. Is he that good?
For one, Joe would love too see Freeman improve his play-action fakes, something Joe suspects the Bucs will do much more of next season. To Joe's eyes, Freeman stands a little taller and holds the ball a little higher when he's faking, a tell that can only hurt him. Regardless, they just don't look too deceptive.
Joe gets what Raheem is saying. Joe hopes Alex Van Pelt and Freeman have identified plenty of areas in which Freeman can improve.