Olson, Raheem Make Right Call On Blount
January 2nd, 2011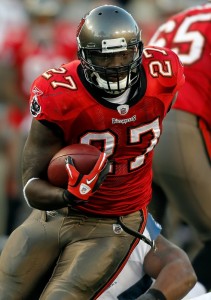 Yeah, Joe trashed another remote control today watching the Bucs put LeGarrette Blount in motion (what's the point?) and fail to use him consistently, but Joe has to give it up for the coaching staff's decision-making late in the game.
Blount was about 13 yards shy of 1,000 yards when the Bucs got the ball back with two minutes left and a 10-point lead. The Bucs could have gone to their "ball security" team and let Cadillac Williams run up the middle, or do some combination of that and Josh Freeman taking a knee.
But no, Greg Olson and Raheem Morris did the right thing and stuck with Blount in an obvious attempt to get the kid the 1,000-yard season he earned in just 13 games.
Blount cranked out a five yard run, followed by a 12 yarder and three-yard run as the clock ran out to finish with 1,007 yards.
Joe was ecstatic to see Josh Freeman and the offensive line so fired up to block for the kid. Just great stuff.
Joe might have shed a tear, but he won't confirm or deny.