O-Line Coach Mangurian Is Fired
January 21st, 2011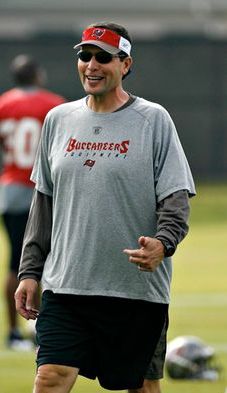 After the Bucs' stunning season ended, Joe repeatedly heard Raheem Morris and Mark Dominik praise their position coaches for having the roster ready to play from top to bottom all season long.
They gave major kudos to coaches for having rookies ready and prepared to make the "next-man-up" philosophy more than just talk. And Joe heard the Bucs' dynamic duo talk about wanting to keep continuity among the coaching staff.
Now, offensive line coach Pete Mangurian has been fired, per eye-RAH! Kaufman of The Tampa Tribune, which comes on the heels of defensive line coach Todd Wash parting ways and special teams coach Rich Bisaccia bolting for the same job in San Diego.
Without casting blame, Joe has to assume there's a problem somewhere. One could argue that Mangurian worked miracles by having Ted Larsen, Derek Hardman and James Lee playing major roles on a line that protected the quarterback well and was in front of a 1,000-yard rusher.
Something stinks. Joe's not sure what or why.
Mangurian worked with Raheem in the 1990s at Cornell University and he had a contract for 2011.  Ironically, Raheem has spoken about his admiration of Bill Belicheat and the Patriots way. Mangurian came to the Bucs from the Pats.
Joe has heard complaints about Mangurian's abrasive personality from some in the Bucs organization (Abrasive? Sounds like a football coach). Jeff Faine shared stories on his radio show about how incredibly foul-mouthed and tough Mangurian was.
Joe can only hope the Bucs have someone better lined up.