Mike Williams Talks To Joe
January 2nd, 2011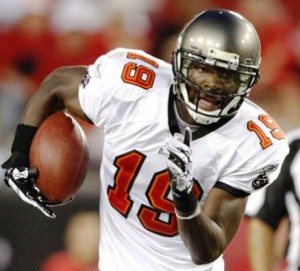 Joe had a chance recently to chat briefly with Bucs stud rookie wide receiver Mike Williams about a variety of subjects.
JoeBucsFan: How much has LeGarrette Blount helped the passing game in your mind? There were plays against Seattle when, on play-action fakes, you could see the Seahawks defenders freeze.
Mike Williams: Oh yeah. Blount, man, when he hits the hole, defenses know they need two or three men to tackle him. [As a defense], you can't just look at the receivers, you have to make sure [Blount] doesn't have the ball. That little second we get, we will get open.
Joe: How much better are you now than you were, say, two months ago? Do you consider yourself a rookie still since you have started 16 games?
Williams: Oh, yeah. It's still my first year. I hope all the other teams still believe I'm a rookie and keep playing me like a rookie. But I'm still a rookie. I'm still out there learning and I'm learning real quick.
Joe: Can you see how defenses have changed playing you since September?
Williams: Oh, just the last six weeks. It's like a whole different defense. But others make plays and that's how we live.