Mark Dominik: Rock Star, Draftmeister
January 7th, 2011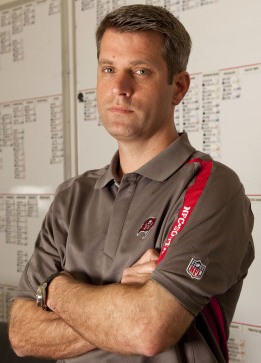 There were a lot of reasons to like the Bucs, playoff-less despite 10 wins.
There was the emergence of quarterback Josh Freeman who seems to have ice water in his veins in the fourth quarter.
There was the play of ageless cornerback Ronde Barber.
There were the clutch catches by tight end Kellen Winslow.
But most of all was the play of the rookies, highlighted by 10 rookie starters, the most by a team with a winning record in the modern era of the NFL.
This was largely due to the eagle eye of rock star general manager Mark Dominik who Joe's good friend Justin Pawlowski of WDAE-AM 620 and the host of the critically acclaimed "Blitz" sometimes heard on Saturdays, writes on his blog on WDAE's website that Dominik has established himself as a master of the draft.
I learned that there was no general manager in football that took as much advantage of one of the deepest drafts in NFL history than Mark Dominik. I know everyone is up in arms over Raheem Morris winning coach of the year, but if Mark Dominik doesn't win executive of the year in a landslide, I will be shocked. When you look at the players drafted by Dominik this year in Arrelious Benn, Myron Lewis, Gerald McCoy, Mike Williams, Dekota Watson, and Cody Grimm, you wonder if each of those players could be starting in 2011. Brian Price, one of the Bucs 2nd round picks, will also be back from injury and contributing at DT in year 2. When you add in undrafted free agents like Preston Parker, Ted Larson, and Derek Hardman, snatching Al Woods and Dezmon Briscoe off of opposing practice squads, and claiming one of the biggest sleepers in NFL history in Legarrette Blount, it's tough to think there's a front office that had a better year than the Bucs did this year. If this is a sign of things to come, Bucs fans should strap in for one hell of a ride. Mark Dominik has set the bar extremely high for himself… which is a very good thing.
Very true.
Raheem Morris did a wonderful job of coaching the young guys up. But it was Dominik who, in the famous works of Bill Parcells, picked the groceries.
One can train a mule for years to race in the Kentucky Derby but the animal will never succeed. Sure, Morris did a wonderful job this year. But the talent was there to work with.
Talent plucked by Dominik.