Arrelious Benn "Ahead Of Schedule"
January 7th, 2011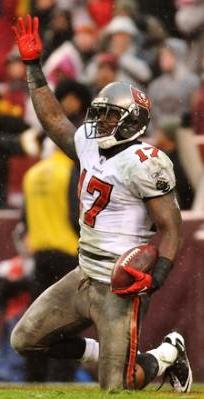 Outside of missing the playoffs, the thing that bummed Joe out the most about the 2010 season was that stud rookie wide receiver Arrelious Benn suffered a season-ending knee injury.
Earlier this week Benn had surgery on his torn ACL. Since, Benn has become somewhat of a Twittering fool, posting all sorts of interesting nuggets.
One of the things he promised his followers is that he would regularly update his fight to rehab his knee. So far, he is doing just that. Yesterday, Benn reports that his knee is fine, as fine as can be expected.
Knee is doing great guys! I ahead of schedule just been watching all the TV and playing video games in the world.!
Joe's not sure how ahead of schedule it can be just a few days after surgery, but Joe's glad to read it regardless.
Benn was just starting to blow up when he got hurt. Still turns Joe's stomach a little on this chilly January morning.