Dominik Wants To See More Of Top-3 Picks
January 10th, 2011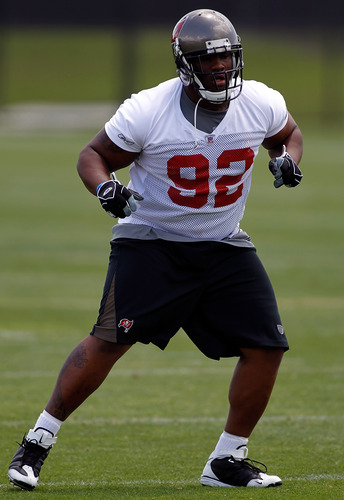 Entering the 2010 season, it was pretty well understood that the Bucs were counting on huge contributions from four of their top five draft picks, Gerald McCoy, Brian Price, Arrelious Benn and Mike Williams.
Sure, they got good looks at Benn, McCoy and Williams, but what would McCoy have delivered down the stretch? His season was cut off early in Game 13 against Washington. Would Benn have shown up big throughout the Seahawks game and against New Orleans?
Of course, Price was hurt since training camp and barely got through half a season.
Mark Dominik was asked to identify negatives from the season during an interview on The Fabulous Sports Babe Show on 1040AM last week.
Dominik was quick to reply,"our first round pick and our second round picks didn't play as much as we wanted them to." He also went to lament Aqib Talib's "lost season" that he thought would have put Talib in the Pro Bowl.
Joe can only imagine the level of competition along the defensive line entering training camp next season.
Obviously, young Al Woods and Frank Okam believe they belong on the field based on their performances late in the season, and Price, McCoy and Roy Miller are coming back. Plus Kyle Moore returning, who the Bucs liked to rush inside on third down, but Joe hopes that ugly experiment is done.
Along with the upgrades coming at defensive end, Dominik will have rough decisions on the D-line  if everyone is healthy.