This Is Why Joe Likes Arrelious Benn
December 15th, 2010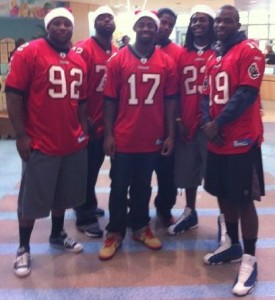 There are a lot of things to like about Arrelious Benn.
Dude is big.
Dude is fast.
Dude can catch.
Oh, and dude is one helluva nice guy.
Joe's had the luxury of speaking with Benn a few times since he's been drafted out of Illinois this past spring and every time Joe came away impressed with the guy. Doesn't hurt that Benn — Joe enjoys typing "first and Benn" into Joe's live chat whenever Benn gets a first down — is starting to blow up as a receiver.
Joe follows Benn on Twitter and came across this little nugget yesterday:
At children's hospital in Tampa. Such a great thing to go visit the patients and spend time with them.
Well, actually it was All Children's Hospital in St. Petersburg, but Joe will let that minor detail slide.
The photo Joe used above was one Benn attached with his Twittering.
Of course, Benn wasn't the only Bucs player there. You will notice Myron Lewis, Mike Williams and there was also a Brian Price sighting, among others! Hey, Price could have gone back to Los Angeles after being placed on injured reserve earlier this year, and instead stayed in the area.
Not only does this show not all the Bucs get in the headlines for the wrong reasons, but many of the Bucs selected by Mark Dominik appear to want to be part of the community.
Joe doesn't think he has to detail just how a lot of sick kids' days — maybe years — were made yesterday. Christmas time is for kids and Joe can't imagine how much it must suck for a kid to be in the hospital this time of the year, especially if a kid has something terribly wrong
Nice gesture guys.