Freeman Calls Out Misbehaving Teammates
December 15th, 2010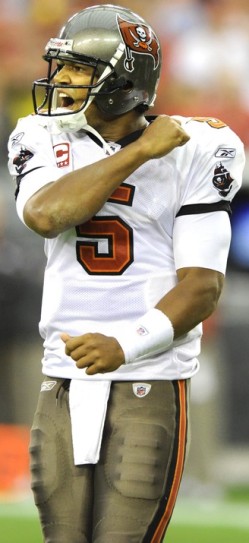 Josh Freeman tried to make a case today before the local media that Raheem Morris bears no responsibility for his players off-the-field screwups.
Nice try.
A good effort from the young quarterback, so documented Victoria Lim, of BHSN as well as Anwar Richardson of the Tampa Tribune.
"We've got to stop screwing this guy over by getting in trouble off the field," said quarterback Josh Freeman, referring to head coach Raheem Morris and criticism Morris faces in the wake of the third arrest this season by one of his players.

Freeman said Morris has done his job, leading the team to win games. What happens after practice, meetings and games, Freeman said is up to the player.

"When we get done football, Raheem – you can't expect him to go by everybody's house at a certain hour. We have to take a higher level of responsibility for ourselves from college."
To Joe, this is like not putting any blame on a parent who doesn't have all his youngsters in line.
Raheem's youngsters don't always behave. Whatever he's doing isn't working effectively.
A lost cause with this young roster? Maybe.
But the head coach still needs to fix it and still deserves some of the blame.
Joe is quite sure the discipline issue will be a negative mark on the head coach's postseason evaluation from his bosses.
How could it not be?