The Great Blount Sleeve Mystery
December 13th, 2010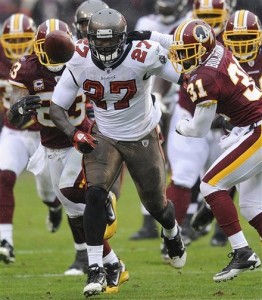 Typically, Joe's only interested in clothing when it has to do with how much of it women are not wearing.
Nobody's going to label Joe a fashionista anytime soon.
But Joe was a bit obsessed with LeGarrette Blount wearing a half-sleeve shirt under his uniform Sunday. Joe was surprised to see it because Blount spoke passionately Friday night on the Buccaneers Radio Network about how a sleeve gets slick in rainy weather and can lead to fumbles.
Blount specifically said he would not be wearing a sleeve Sunday in the Washington downpour in order to have maximum ball security.
But look in the picture from Sunday's Bucs-Skins game. Blount is chasing his own fumble, punched from his clutches by D'Angelo Hall.
So what gives? Joe looked at Blount's college game photos. No sleeve. So it's not like he can't run without it. Perhaps he got nervous during the one-hour radio interview Friday and mis-spoke? But Joe doubts that.
This is almost a great a mystery as Greg Olson giving up on the run in the first quarter.