Geno Hayes Arrested, Released
December 13th, 2010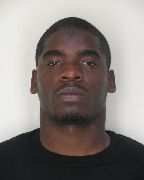 UPDATE: The Tampa Tribune is reporting Hayes was, in fact, at the Blue Martini, also at International Plaza. Still, Joe prefers IHOP.
Joe liked the old days under Chucky when multiple Bucs were hanging out at a low-rent Tampa IHOP in the wee hours and getting into verbal and physical scuffles with patrons.
That was a blue collar football place, where guys making six and seven figures could sit around and slam pancakes and bacon, and presumbly gawk at strippers hungry for sausage and eggs after a physical shift.
Unfortunately, Geno Hayes was arrested last night at The Capital Grille at International Plaza, a swanky joint where bottles of wine are revered and its website describes it as a place that Winston Churchill and Theodore Roosevelt would be proud to enjoy —  "the grandeur of Tampa's golden age is alive and well."
Yuk.
Per the Hillsborough County Jail report, Hayes was arrested there shortly after 2 a.m. today. The were misdemeanor trespassing and disorderly conduct. Hayes bailed out of jail a few hours later without having to sit in a cell.
Joe sincerely hopes Hayes, 23, was not asked to leave but loudly demanded to keep searching the bar for a lost cognac snifter instead.
Jeff Faine talked about the daily struggle to keep the young Bucs in line off the field. That sure seems to be true.