"Stunned" By Raheem Morris' Decision
December 20th, 2010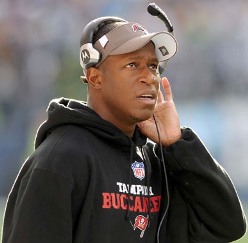 There were plenty of things that made Bucs fans scratch their heads over yesterday.
There was the benching of LeGarrette Blount late.
There was the bizarre play-calling late.
But good guy Stephen Holder of the St. Petersburg Times is particularly puzzled by a move made by Raheem Morris late in regulation in the Bucs loss to the rebuilding since 1957 Detroit Lions, a loss that for all intents and purposes, puts the Bucs in 2011 draft mode.
In short, after resting on the issue overnight, Holder cannot believe Raheem didn't go for the win, and settled for a field goal in the final minutes of regulation.
@HolderStephen The more I think about Raheem Morris' decision to put game in hands of a leaky defense the more stunned I am. 'You play to win the game!'
Joe understands where Holder is coming from and doesn't totally disagree, but Joe can also see where Raheem is coming from.
To that point, when the Bucs kicked a go-ahead field goal with 1:39 left in the fourth, the Bucs had held the Lions to one touchdown in the second half, that came early in the third quarter.
Raheem, being a defensive guy and seeing how his defense held the Lions scoreless for some 27 minutes, decided to trust his defense.
Joe can see where Raheem was coming from.
As a Bucs beat writer e-mailed Joe this morning, the Bucs all season have been searching for that "signature win." Instead yesterday, they suffered a signature loss.