Blount And Williams Will Split Votes
December 20th, 2010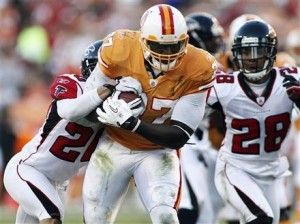 Joe's surely no expert on voting rules for the NFC Offensive Rookie of the Year award, but Joe does know that Mike Williams and LeGarrette Blount are surely going to take votes from each other.
Crap, Bucs fans and media probably wouldn't give a huge edge to either one if the vote was only local.
Blount, who got a late start to the season, has chrurned out 777 yards on just 164 carries. That's an average of 4.7 yards every time he gets the rock, among the best in the NFL.
As for Williams, the fourth round pick has been a standout since arriving in Bucs camp after the draft. He's got 58 catches for 888 yards (17th best in the NFL)  and eight touchdowns. That leads the Bucs in each category.
Both could have 1,000-yard seasons. And Blount would be as close to one as Williams if the Bucs fed the beast, so to speak.
Joe can't decide between them at this point. The Bucs offense isn't much without either one.